PRIVATE WINE CELLAR TOUR WITH TASTING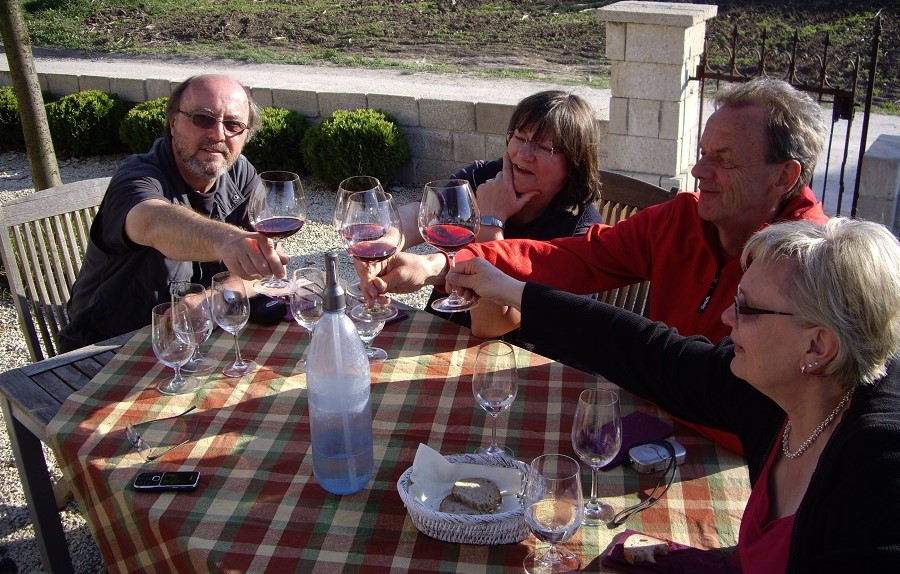 "I was left speechless once we arrived and tasted the wines. They are all handmade and the winemakers are so personable and friendly. We ate in the vineyard and remember the sun going down and the dining table getting dark just lit by the light of the fireplace" Mabel Rivera, USA"
"We visited the country side and we ended our day in a vineyard. I believe this was my husband's favorite part! The lady, Vali Hernyak took the time to explain us about her familly'swinery business and made us taste many different wines (all very - very nice!) We could see how much love she puts in her art and we very much appreciated the time she spent with us. We also had a plate of local home-made cold cuts and cheese (again, incredibly delicious with the last wine we have tasted)." Caroline Tessier, Canada
Overview
High quality wines, the finest food, romantic vineyards, grand scale panorama, friendly people and idyll: this is what you will eyperience in the Etyek wine region just 30 mins outside of Budapest. Combining a Budapest tour with a wine cellar tour in Etyek will enrich you with a nice travel experience. The white wines of this region are among the top wines from Hungary. A winery visit where you get special attention and treat, unlike industrial wineries...
Duration: 3 hours
Operated any day of the week, upon your request and our availability
BOOK YOUR PRIVATE WINE TASTING TOUR HERE: contact@mypersonalbudapest.com
What You'll do:
Taste 5 or 6 wines right there where they are made and meet the wine-makers!

See the charming countryside just outside of Budapest

Enjoy a tasty cold plate meal of local salami, ham, cheese, bread and spreads

Slow down the hurry of your trip and enjoy life!
The tasting is accompanied by Hungarian Pogácsa and a tasty meal (based on the number of people in your party either a typical Hungarian cold plate meal or a Hungarian main dish.)
Example: Price for 2: eur 160 total (eur 80/person)
Price includes: pick up & drop off at your hotel, private guide, private car/minivan with AC, wine tasting at a wine cellar (5 varieties) along with introduction to the local wine culture, wine cellar tour, cold plate meal from local sausages, salamis, Hungarian bread and spreads, local cheese
VISIT THIS PICTURESQUE VILLAGE AND ENJOY THE WINES AND THE ATHMOSPHERE : contact@mypersonalbudapest.com

Please include the following information: